Skip to Content
Implant Supported Dentures
Implant-Supported Dentures in New Westminster, BC
The team of denture specialists at Prime Denture Clinic in New Westminster, BC is thrilled to offer implant-supported dentures. The stability provided by this type of denture will allow you to chew, laugh, and smile with confidence. If you think you may be a candidate for this approach, contact our expert denturists to schedule a consultation.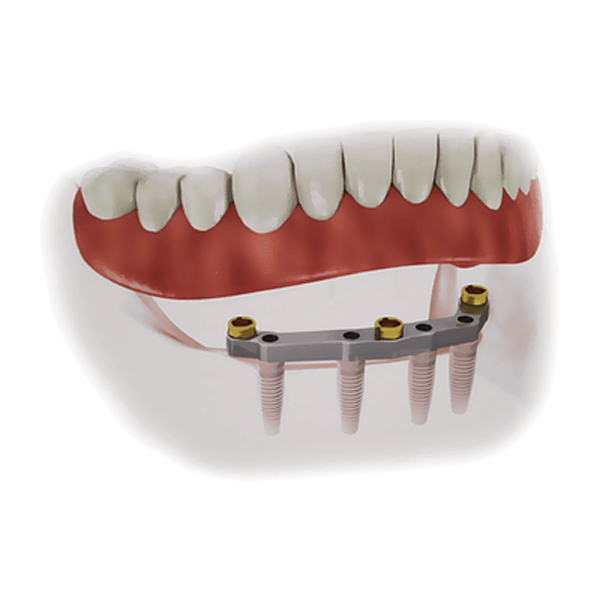 The Basics of Implant-Supported Dentures
Implant-supported dentures are secure, natural-looking alternatives to conventional dentures. Whereas traditional dentures may rub against a wearer's gums and are prone to shifting, implant-supported dentures are held firmly in place by structures embedded into the jaw bone. They are stronger as a result of their foundation in the mandible, which prevents slipping and enhances one's ability to chew. Additionally, dental implants will stimulate the bone. This benefit adds strength and lessens the chances of the bone shrinking or resorbing. There are two styles of implant-supported dentures, both of which feature an acrylic base that resembles gums. Each of the following needs a minimum of two implants for support:
Bar-retained dentures – This option uses a thin metal bar attached to the implants in a patient's jawbone as well as additional attachments on the bar, denture, or both. The connections secure the denture in place after it is placed over the bar.
Ball-retained dentures – These are also known as stud-attachment dentures. For this approach, dentures are held in place by ball-shaped features that attach directly to sockets in the implants.
Benefits of Implant-Supported Dentures
The benefits of implant-supported dentures are numerous. While traditional dentures are less expensive initially, implant-supported dentures are a better long-term investment because of their oral health benefits. Patients and denturists prefer implant-supported dentures for reasons including:
Stability – Because implant-supported dentures anchor to the mandible, you will be able to chew and eat all of the foods you love. Never again worry about your dentures shifting while you are chewing a delicious steak.
No Adhesive – This style of denture eliminates the need for adhesive
Natural Feel – Because these dentures are secured in place, you may forget you're even wearing them!
Easily Removable – These can be removed for cleaning and hygiene
Better for Gums – Avoid irritation and inflammation of the gums; a common problem amongst denture patients
Bone preservation – Implant-supported dentures stimulate the jaw bone and halt atrophy. Traditional dentures often require adjustments and replacements because the shape of patients' mouths change, but that is not the case with this approach.
Improved confidence – Your confidence will skyrocket knowing that your implant-supported dentures will remain in place regardless of circumstance. Laugh freely, smile widely, and enjoy a fancy dinner with friends knowing that you are not vulnerable to denture mishaps.
Characteristics of Removable Implant Over-Dentures
Removable implant over-dentures have many of the same characteristics of implant-supported dentures. However, they provide an even more secure fit. Removable implant over-dentures are considered to be one of the best investments in the teeth prosthetics market. They are also sometimes called snap-on dentures because they snap into place using a dental bar that is fixed to the jaw bone with at least two implants. These dentures will not shift in your mouth and can provide facial support for patients with severe bone loss. A significant benefit of removable implant over-dentures is they can be easily removed and cleaned to ensure exceptional hygiene.
Contact Prime Denture Clinic for Your Consultation
Do not struggle with traditional dentures that cause a mess, lessen your appetite, and may move around in your mouth at inopportune moments. Contact Prime Denture Clinic in New Westminster, British Columbia to discuss using implant-supported dentures or removable implant over-dentures. Our professional team of denture specialists will evaluate your oral history and provide options to help you regain confidence in your smile. Call us today to learn more and schedule a consultation.
"Taking you back to your prime!"